BB&T Bank
The line of Credit on Clara's Home in Key West
This loan was a Line of Credit for a maximum of $250,000.00. It was set up in the names of Clara G Fernandez, Clara G Fernandez Declaration of Trust Date August 28, 1998 and her husband, Adalberto Jacobo Fernandez. At the time this mortgage was put in force, the house was owned solely by Clara G Fernandez Declaration of Trust Date August 28, 1998.

The total advances as of the time Clara left Key West in August of 2004, totaled $171,480.34. Most of which were for Raulís own use. They consisted of paying off his credit card debts and day trading on the internet. In his petition for temporary guardianship, Dr. Pena claimed that Al accessed this account by way of undue influence. The evidence shows a very different story than what he put in the sworn statement submitted to the courts. Here are the facts.
Date
Written to
Purpose
Amount
July 15, 2001
First Union/Wachovia
No idea
$44,421.09
August 1, 2002
Raul Fernandez
Supposedly to pay off Raulís Credit Card Debt
$30,000.00
January 2, 2003
Clara
Cash
$1,000.00
January 2, 2003
First State Bank
To main checking Account
$1,000.00
April 10, 2003
Bank One, NA / PFG, Inc
Private Account for Raul (Commodities Trading)
$50,000.00
May 1, 2003
Fidelity Investments
Day Trading Money for Raul
$10,000.00
December 9, 2003
American Nat. Bank / PFG. Inc.
Private Account for Raul (Commodities Trading)
$20,000.00
April 27, 2004
OCHD
Bay Lake Project
$310.00
April 27, 2004
Sullivan Surveying
Bay Lake Project
$350.00
April 27, 2004
Stephen & Davis
Bay Lake Project
$2,739.25
April 28, 2004
BOCC
Bay Lake Project
$50.00
June 2, 2004
Micro Spinal Center
Raulís Personal medical Expense
$11,610.00

$171,480.34
Note that $3,449.25 was spent on the Bay Lake Project (House Construction on lot 111) that Raul decided not to build.
Note that $70,000.00 went into a Private Account in Raul's name (for Commodities Trading)
Note that $10,000.00 went to Fidelity Investments for Raulís Day Trading.
Note that $30,000.00 went to Raul supposedly to pay off Raulís Credit Card Dept.
Note that $11,610.00 went to pay Raul's medical bill that he claims he paid from the $25,000 he took form Clara's Merrill Lynch Account.
The letter below was written by Raul Fernandez, webmaster of http://elder-abuse-cyberray.blogspot.com and http://blog.elderabusehelp.com. He is saying that his parents Line of Credit with BB&T Bank on his parents home was for the purpose of a foreclosure on a mortgage, remodeling the Key West House in order to sale and the construction of a house in Bay Lake. As you can see, most of the money went personally to Raul for gambling in day trading and paying off his credit card debts. Nothing was paid out of this line of credit for remodeled the Key West or for a foreclosure and only $3,499.25 was spent on preparation for building the house in Bay Lake. Considering that Clara was 85 years of age at the time and Raul had Clara's power of attorney, and Clara was at his mercy, I think that having her transfer $70,000 out of her line of credit on her homestead into a private account in his name for gambling is unquenchable, especially considering where the money was coming from.
After Raul got Clara back, this account reached $245,000.
As of October 2007, the monthly payment is over $1,500. Clara's Social Security check would now barely covers the monthly line of credit payment. Clara saw it coming in 2004 and took appropriate action. Then Dr. Pena stepped in and put Clara right back in Raul's control and this is the result.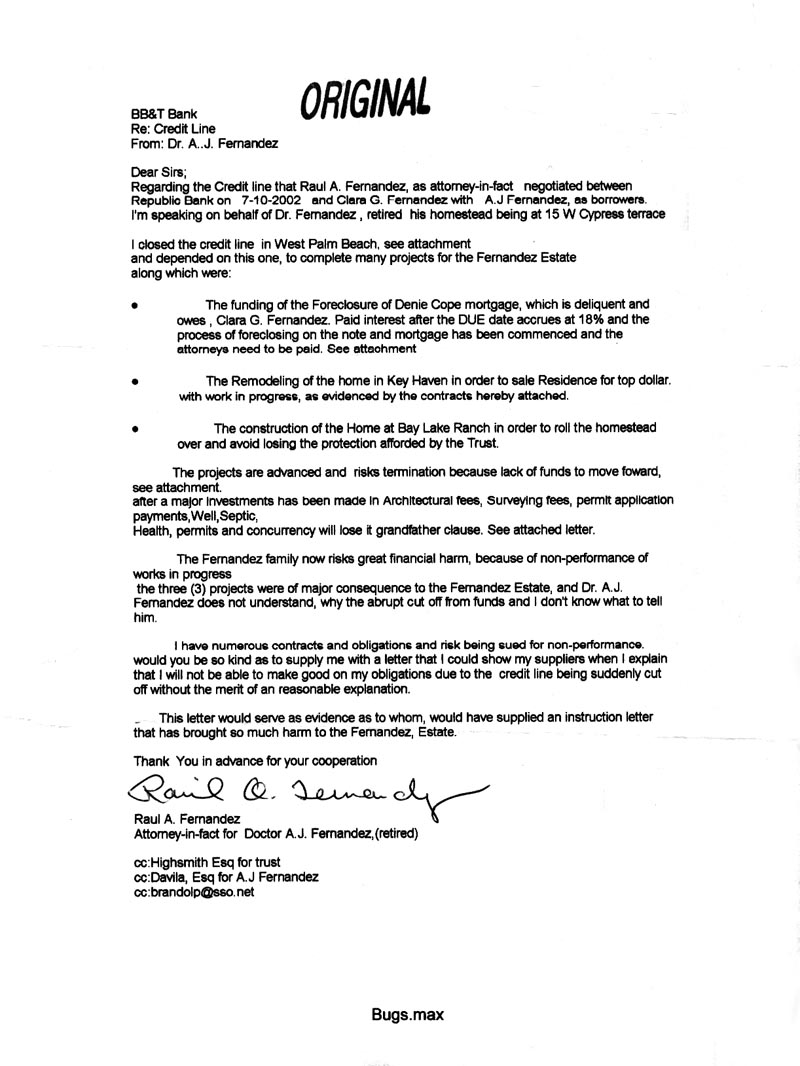 Here is an excerpt from Raulís website.
Raul says:
When Clara started getting Dementia, she wanted to sign the house, CD's, assets over to us, however we are old fashioned and we told her "No all those assets are yours until you die, you might need them, we are not here for that." As her mental abilities declined a group of opportunists saw the door swing wide enough for them to get control and vacate her trust of anything of value, including some unique personal jewelry, which Clara was wearing on the day she was taken and is un accounted for.
Raul did:
Taking everything he could was exactly what he was there for, first the line of credit on the house, and then in November of 2003 he had her take the house out of her trust and deed half of it to him. Then he went after her Merrill Lynch account after she left Key West. These are the facts.